I wasn't the only one scratching his head when I read the TechCrunch story announcing Twitter founder Jack Dorsey's new, very cool, credit card reading startup. It's called 'Square'. But the domain is squareup.com. Here's Elliot Silver's take (links to full post)
TechCrunch reported today that Jack Dorsey, founder of Twitter, has launched a mobile payment service called Square. While the actual product/service looks pretty cool, I am surprised that someone with the capital resources such as Dorsey would launch a new brand on a domain name that is different from the actual brand.The big problem for Square is that they are using the domain name SquareUp.com for their website. This really defies logic to me for a couple of big reasons…
Exactly! Can't afford it? Not worth it? It's just a domain name? But it is difficult to supply the facts that support our side of the argument. The best evidence I've come across that supports, with data, the efficacy of a great (generic) domain name comes from Edwin Hayward at MemorableDomains.co.uk with a report entitled Improving PPC Search Engine Campaign Results Using Generic Domain Names (check out Ed Keay-Smith's OzDomainer podcast interview with Edwin where he explains the report!) Still, that makes sense for PPC and generic domain names. But is branding any different? How? I'll leave that for the comments and for another post. In the meantime I'd like to focus on this aspect alone: Why call your company one thing, Square, but have a different URL? If you can't afford the domain name, at least call the company after the domain you do own!
Here's another case. I may come back to this over time. When I first heard about 'Fever' it sounded interesting (I'm into feeds and feed readers). But I couldn't find it! I'd heard about it on a podcast. It literally took minutes to find. Fever.com is a parked page with illness related ads popping up. Hmm, just curious, how expensive would Fever.com be? But maybe a lot. Because a domainer could be holding out for a play from a big pharmaceutical. So 'Fever' uses the domain feedafever.com. Not bad. Reasonably memorable. So why not call the product that? As/if Fever continues to gain momentum, I'll update the Compete pics. but check it out. Don't the numbers seem to be indicating, that as momentum for Fever grows, more traffic is being sent to the parked Fever.com page?
November 2, 2009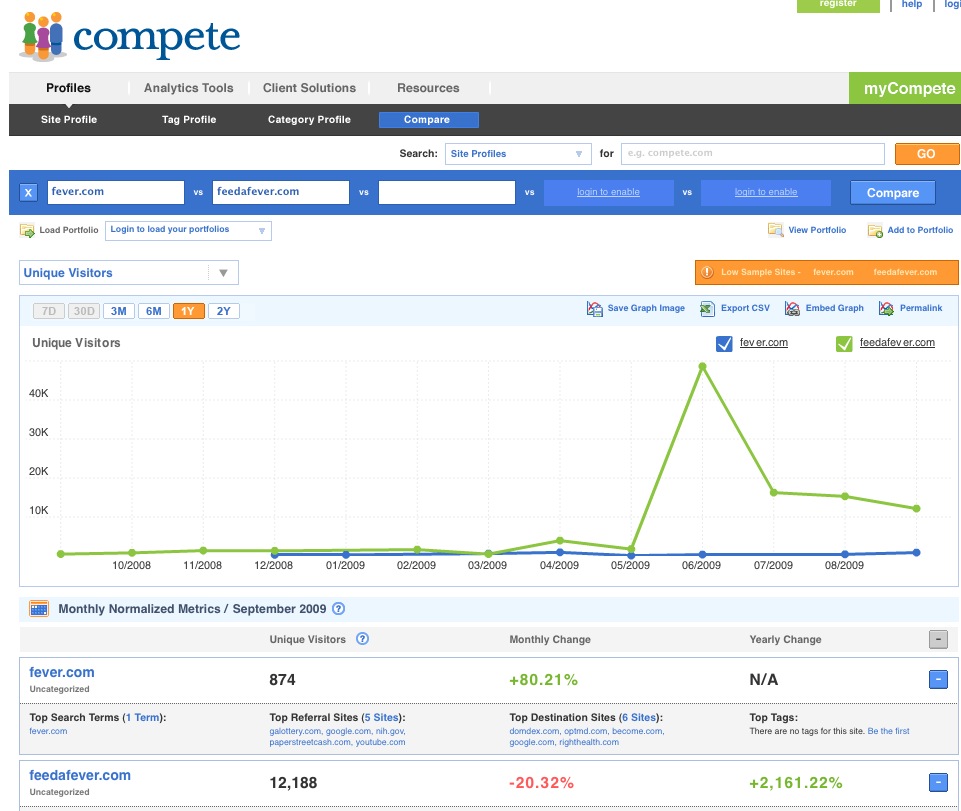 A month later.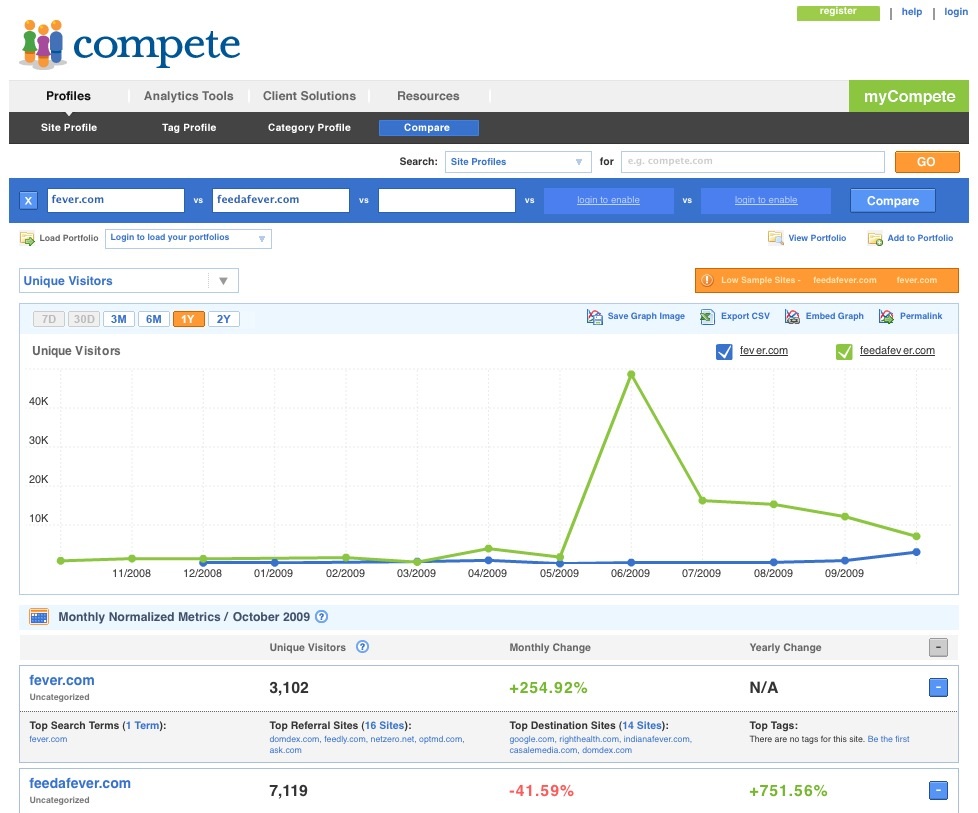 Doesn't it look like for whatever reason, Fever.com is getting more traffic?
What do you think? Is that extra traffic likely to be people looking for 'Fever'?
What makes me nervous about all this is thinking about what will happen to the price of the domain over time if/when Fever becomes very popular.
Like I mention in a previous post, $75,000 for Poken.com?!!!
Acquire your startup domain names early!
If you're starting a company I'm happy to help brainstorm an available domain name or help you connect with a great domain at a fair price.