Tech Crunch ran a story today about Evan Williams paying $7500 for the Twitter domain name back in mid 2006. @ev is the co-founder of Twitter. He's tweeting with Ed Shahzade @ed.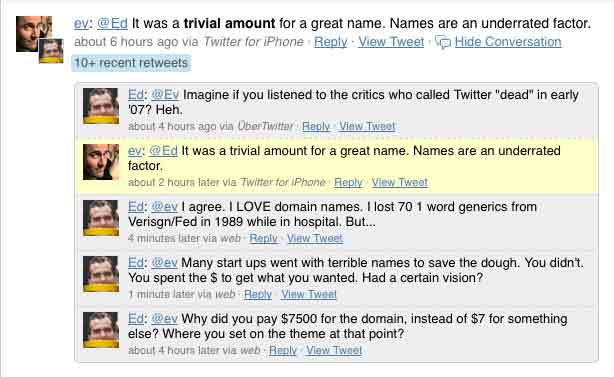 And   some Twitter history from LA Times.
Then when did the service's name morph from "Status/Stat.us" to "twittr" to Twitter?

The working name was just "Status" for a while. It actually didn't have a name. We were trying to name it, and mobile was a big aspect of the product early on … We liked the SMS aspect, and how you could update from anywhere and receive from anywhere.

We wanted to capture that in the name — we wanted to capture that feeling: the physical sensation that you're buzzing your friend's pocket. It's like buzzing all over the world. So we did a bunch of name-storming, and we came up with the word "twitch," because the phone kind of vibrates when it moves. But "twitch" is not a good product name because it doesn't bring up the right imagery. So we looked in the dictionary for words around it, and we came across the word "twitter," and it was just perfect. The definition was "a short burst of inconsequential information," and "chirps from birds." And that's exactly what the product was.